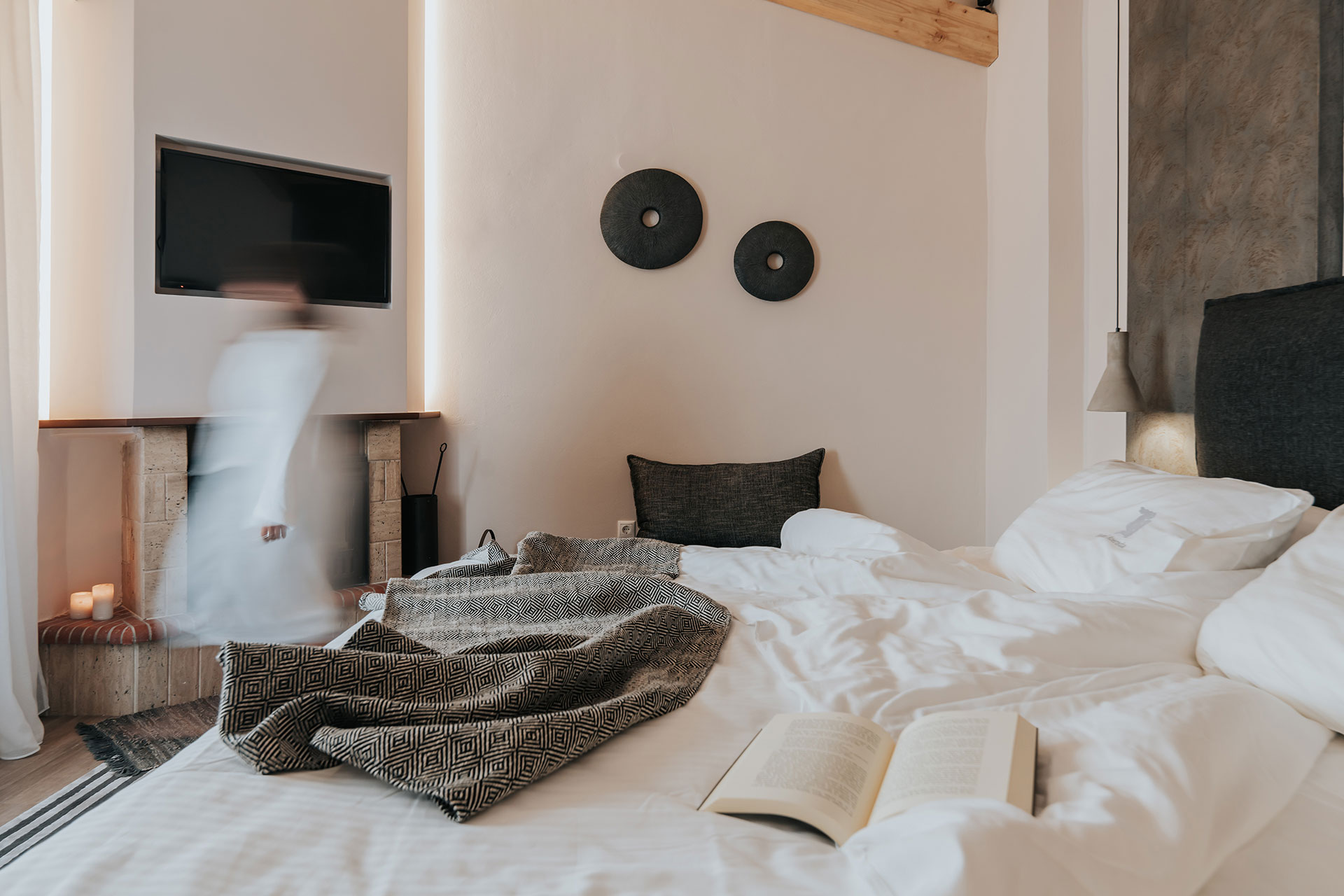 Brand New Deluxe Suite
with fireplace
1 Queen Size Double Bed & possibility for 1 extra single bed

- Unique view of the town of Kalavryta.
- Queen Size COCO-MAT Bed
- Spa Column
- Nespresso Coffee Machine
- SmartTV
- KORRES Organic Amenities
Brand New Deluxe Maisonette
with fireplace
2 double beds

- Unique view of the town of Kalavryta
- Queen Size COCO-MAT Bed
- Spa Column
- Nespresso Coffee Machine
- SmartTV
- KORRES Organic Amenities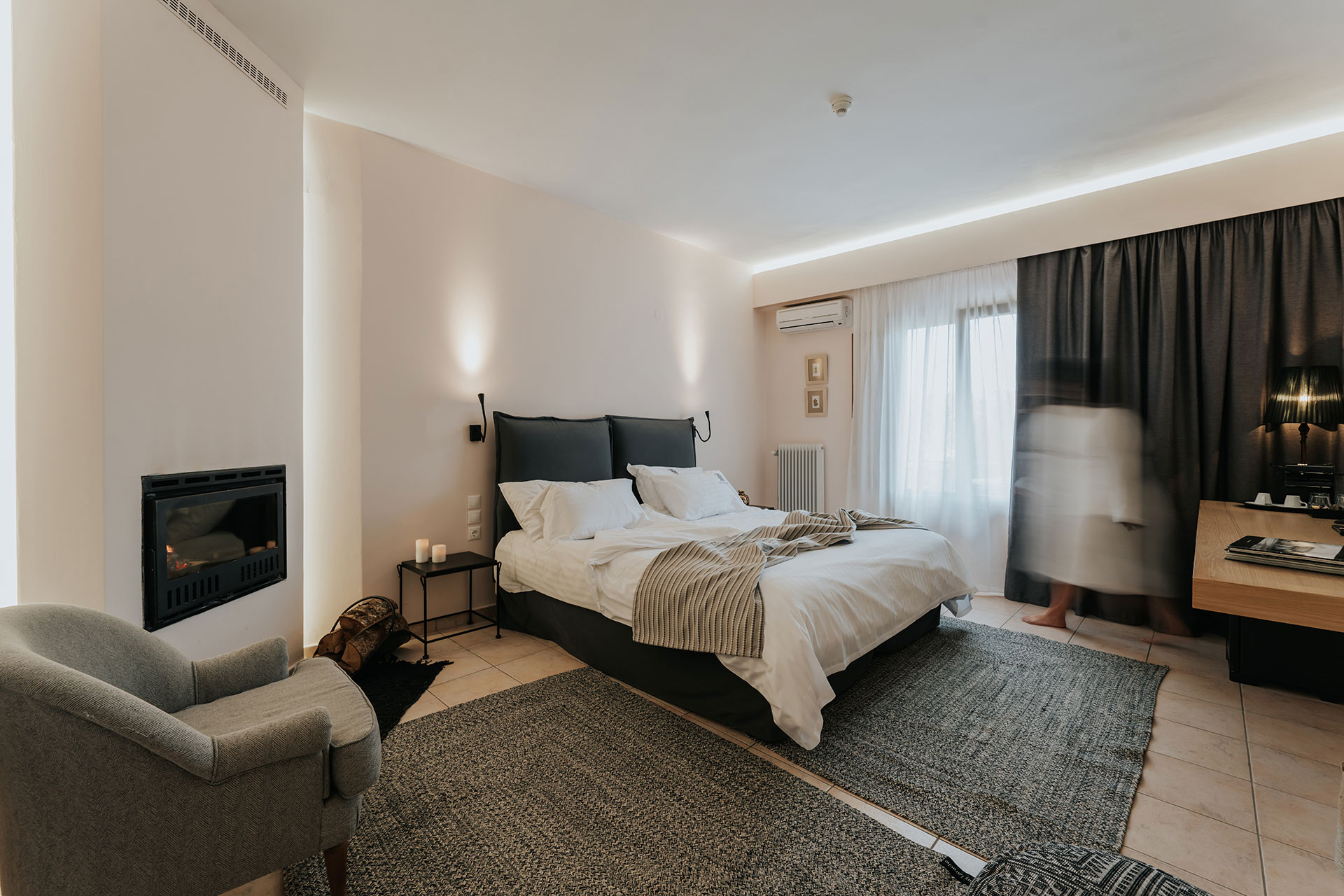 Brand New Deluxe Double Room
with fireplace
1 King Size double bed

- Unique view of the town of Kalavryta
- Queen Size COCO-MAT Bed
- Nespresso Coffee Machine
- SmartTV
- KORRES Organic Amenities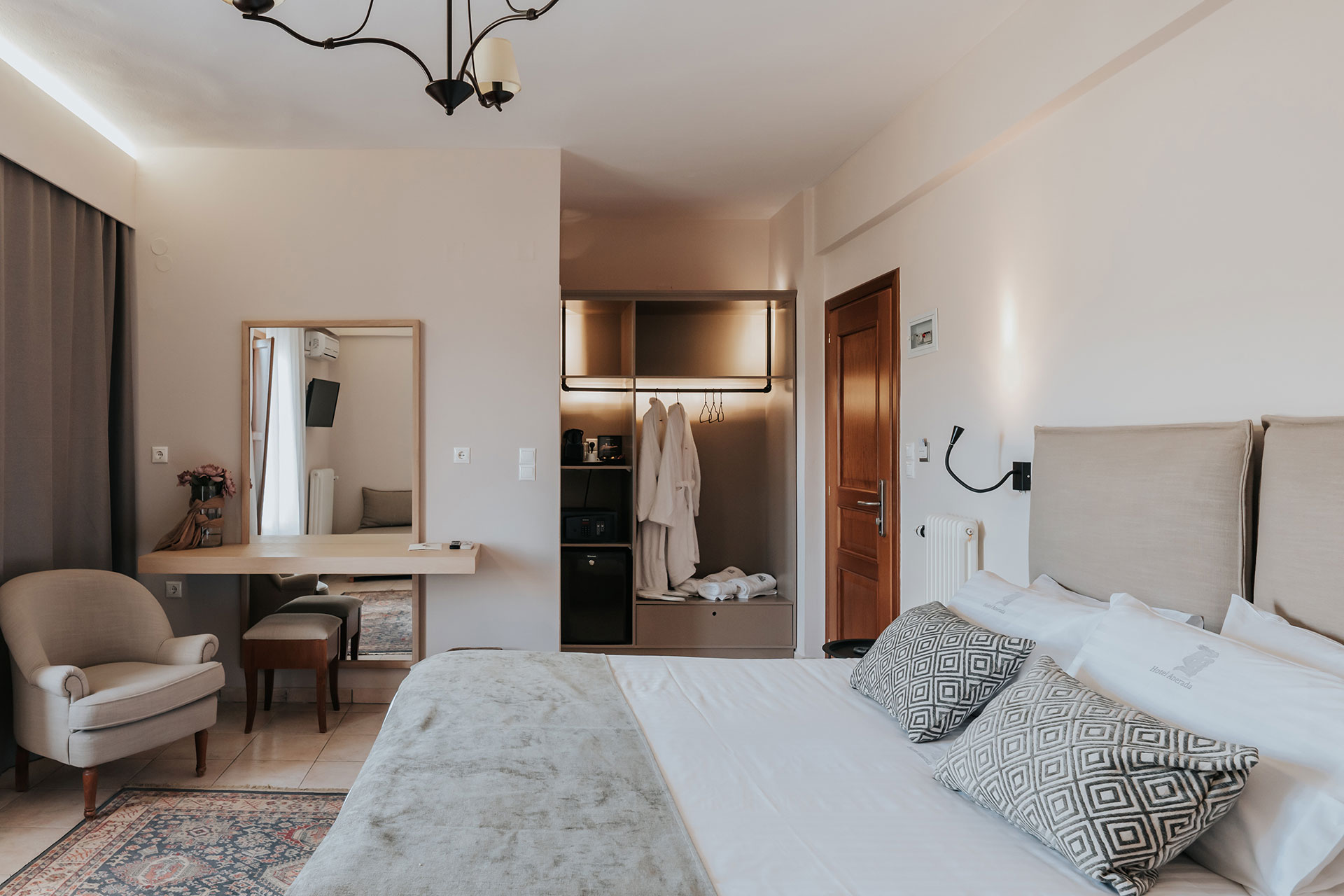 Brand New Deluxe Double/Triple Room
1 King Size double bed or 2 single beds & possibility for 1 extra single bed

- Unique view of the town of Kalavryta
- Queen Size COCO-MAT Bed
- Nespresso Coffee Machine
- SmartTV
- KORRES Organic Amenities
Standard Room
with fireplace
1 double bed & possibility for 1 extra folding bed

- Balcony
- SmartTV
- KORRES Organic Amenities
Standard Room
1 double bed & possibility for 1 extra folding bed
- KORRES Organic Amenities

"FILOXENIA" THAT WILL STEAL YOUR HEART
The unlimited view of Kalavryta town is breathtaking, offering moments of relaxation and enjoyment.
LUSCIOUS HOMEMADE BREAKFAST
Our breakfast is a unique dining experience. Leave the diet aside…
Enjoy handmade traditional dishes such as warm cheesepie, local yogurt with honey, handmade jams, freshly baked croissants and delicious cakes. Eggs, omelettes and fresh juices are not missing
Breakfast hours 8.00 - 10.30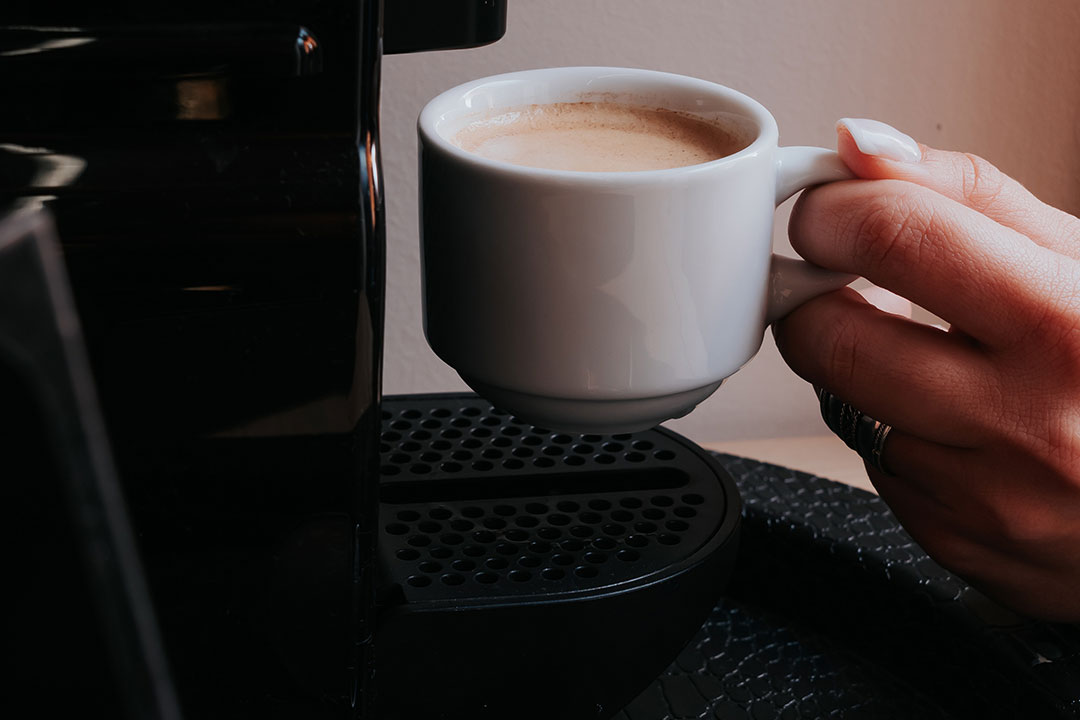 WORK & ENTERTAINMENT
Fast Wi-Fi in all hotel areas and access to the Netflix platform. Work, surf or enjoy your favorite series and movies!
HOTEL LOBBY
The hotel's lobby is the best introduction to the exhibition that your stay in Kalavryta will create.
Its classic aesthetic furnishing, leather sofas next to the fireplace, the embroidered handicrafts all over the hotel and the unique view make the space ideal for relaxation, for a drink, for making plans for your trips, or regrouping of the company before your wall.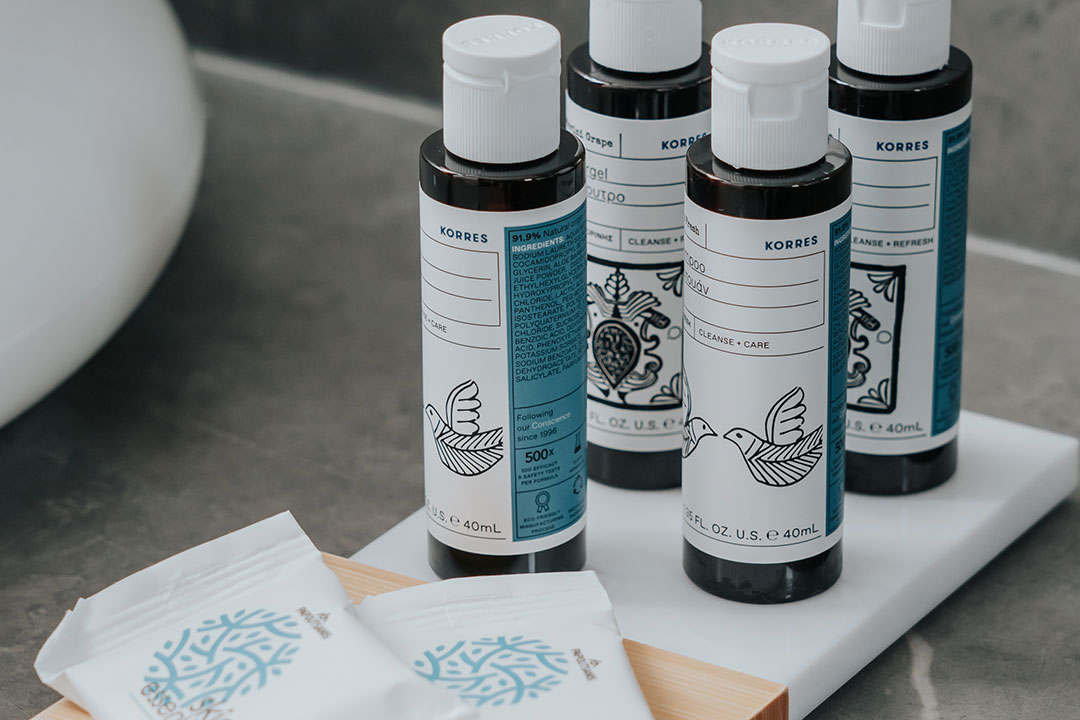 ΚΑΛΛΥΝΤΙΚΑ ΠΡΟΪΟΝΤΑ
Σε όλα τα δωμάτια μας θα βρείτε καλλυντικά ΚΟRRES για την καθημερινή σας υγιινή.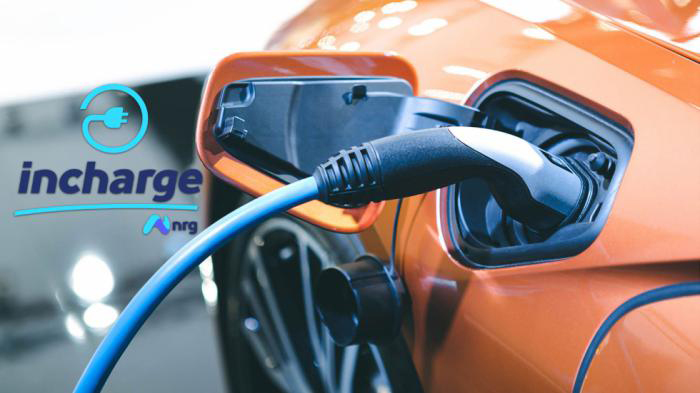 ΣΗΜΕΙΟ ΦΟΡΤΙΣΗΣ
Φορτίστε το αυτοκίνητο σας ενόσω είναι παρκαρισμένο στο άνετο πάρκινγκ του ξενοδοχείου μας.

WELCOME TO KALAVRIA
Nature has lavishly adorned the area with verdant gorges, wild mountain peaks and crystalline springs to impress the visitor with a veritable prelude of images. The man completed the palette by building beautiful settlements, imposing monasteries, modest monuments, all of which radiate culture, history and tradition.